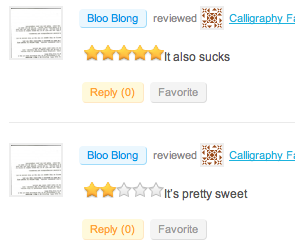 BP Group Reviews adds a new tab to your BuddyPress groups, where users can leave reviews and star ratings for the group.
The guts of the plugin were written by Andy Peatling for use on the Extend section of buddypress.org. I adapted and expanded the code into this plugin, and I'll be maintaining it. All praise goes to Andy, all blame for things broken goes to Boone :)
Follow the plugin's development at http://github.com/boonebgorges/bp-group-reviews
Instructions
Upload the bp-group-reviews directory to your WP plugins folder and activate
BP Group Reviews has been downloaded 5,356 times. Are you using this plugin? Consider a donation.
Version history
1.0 – November 17, 2010

Initial release

1.0.1 – November 19, 2010

Loads ratings metadata into the groups loop for better performance
Missing gettext calls fixed

1.0.2 – November 20, 2010

Missing gettext calls fixed
Typo fixed (props Luca Camellini)
Italian translation added (props Luca Camellini)